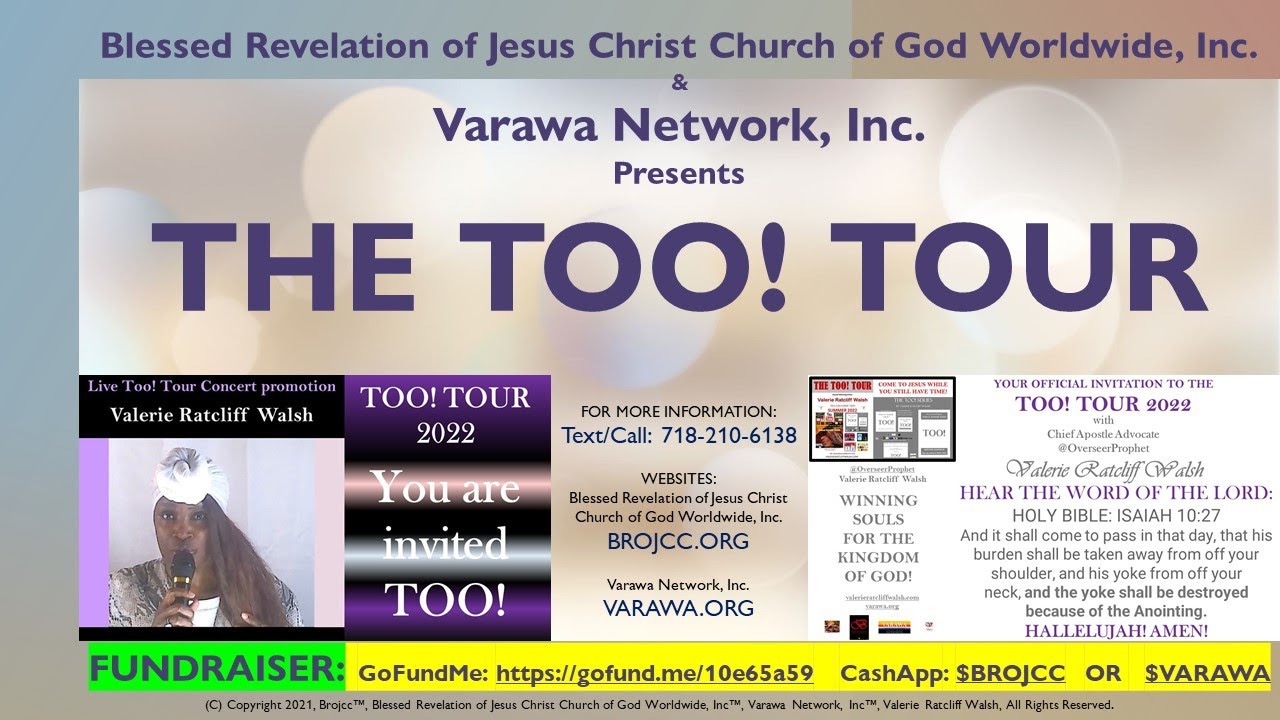 HEAR THE WORD OF THE LORD:
THIS CONCERT & EVANGELISM TOUR IS FREE.
The TOO! TOUR is based on the songs, books and sermons and evangelism by @OverseerProphet Valerie Ratcliff Walsh that simply says, You can come to JESUS too! The song is based on Matthew 20 where JESUS is calling laborers into the vineyard. The song makes the statement that ALL CAN COME TO JESUS. Don't let anybody stop you, don't try to stop anyone. YOU CAN COME TO JESUS. 
Many of the Tour dates will occur outdoors to give all people immediate access to the concerts, evangelism and help. All indoor tour dates will be advertised as they are completed.
We would greatly appreciate your support to raise money for the TOO! TOUR. We need donations to help with EXPENSES FOR BROADCASTING, MAKING VIDEOS, STAFF & EXTRA EQUIPMENT as we take this Too! Tour Concert and Evangelism Event to as many cities around the Country for FREE. We are WINNING SOULS by calling them to JESUS CHRIST FOR ETERNAL LIFE.
Very rarely do we ask for Donations or Help. We always Give more than we receive. This time, we are asking for help and participation. We are also interested in Volunteers, Clothing and Food and all help for the Homeless, Poor and Needy. Whatever you give and whatever you do to contribute will be greatly appreciated.
Blessed Revelation of Jesus Christ Church of God Worldwide, Inc. & Varawa Network, Inc. are also non-profit presenters and sponsors of this event. Brojcc.org  & Varawa.org
YOU CAN COME TO JESUS TOO!
Concert Singing, Prophecy, Healing, Deliverance, Altar Call, Counseling & to feed the hungry, help the homeless & poor and give as much help as we can provide to those in need. IN JESUS NAME. HALLELUJAH! AMEN!